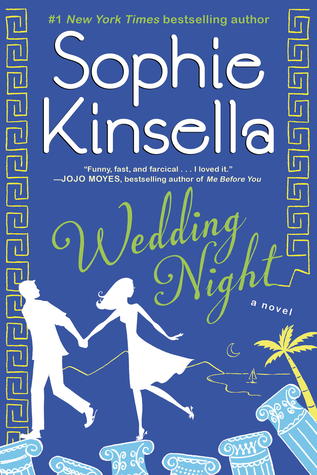 Title: Wedding Night
Author: Sophie Kinsella
Genre: Chick lit,Romantic Comedy
Pages:464(I was read paperback on Macedonian language)
Author's page:www.sophiekinsella.co.uk/
Buying link: Amazon, Book Depository
My review:
All what she wants is to be loved and get married with him. All what she her sister wants is to stop her to do mistake.
Lottie and Fliss are sisters. Lottie is younger one and she jump to conclusions, beside she is desperate romantic soul. Fliss has burned in her past and all she needs is calm life for her son and happiness for her sister. Lottie doesn't allows her that at all, she has her own plans.
The story is settled in UK and then in Greece island, which brings exotic and romantic energy to the story. It is tells by Lottie and Fliss point of view, which makes it very interesting to read what are their expectations, their wishes and how they act to get what they want; to be more interesting and hilarious they have opposite wishes and plans to get those wishes come true. It's been long time when I was read something from Sophie Kinsella and then I bought this book and I'm not regret at all. It's funny and interesting. The things in Greece could be conducted otherwise, but if that happened then it's couldn't be funny at all, the book will be just romance not romantic comedy.
I like Lottie. She is spontaneous and naive, that makes her funny and she falls in funny situations, especially when she is frustrated and nervous. She is so eager to get what she wants so that makes me laugh out loud, especially when she goes in Greece- hilarious!
Fliss is more stable, she knows her sister very well and she predicts what is her next step fooling her self around. Fliss her intentions to get what she wants or actually what she doesn't wants and her acting to get that are hilarious. I was laughing out loud as crazy person reading her intrigues. So funny!
This book was bought by me.
My rating 5/5(amazing)